From processing chicken & turkey to harvesting winter greens, peeling apples, and whipping up a tasty batch of pumpkin bread, we're keeping busy while still enjoying those precious family moments together on the farm.
Checking on the young layers….
Need Bone Broth ingredients? We're Bone Broth Headquarters! Learn how to make your own. Stop by for instructions, a recipe card, & top quality ingredients.

Thanksgiving Check list –
Pre-order for special Thanksgiving drops next week

Leesburg Market Location: Tuesday night 5:00-6:00pm
Mt. Vernon/McCutcheon Market: Wednesday AM: 8am-12pm

– Turkey or Chicken Stock for Gravy
– Extra cut of Turkey (drumsticks, Quarters, & more)
– Granola (Maple Walnut, Apple Cinnamon, etc)
– Pork: Boneless Loin Roast, Boston Butt, or Chops
– Beef: Ground, Sirloin Strips, Chuck Roasts, Fajita Meat, & More
– 100% Grass Fed Lamb Chops, Rack, or Roast
– Breakfast? Bacon or maybe Maple or Sage Sausage

________________________________________

– Bulk Meat Packages:
Looking for bulk pricing on Whole chickens or maybe you also want Boneless Breasts, Drumsticks, & Wings. How about a multiple packages of chicken wings? Maybe Ground Beef, Chuck Roasts, or Beef Bones? We have options and will have even more options available soon.

Note on Winter Farmer's Market Schedule
Del Ray – Year Around 8am-12pm
Falls Church – Year Around (winter hours tba)
Leesburg – Year Around though hours change to 9am-12pm starting Nov. 1st
Ashburn – thru Nov 19th & then the first bi-weekly drop begins Dec. 3rd
Stone Ridge – Bi-weekly drop-offs all winter (see sidebar for schedule)
Burke – thru Dec. 17th
Mt. Vernon – thru Dec. 14th
Haymarket – Bi-weekly drop-offs to continue all winter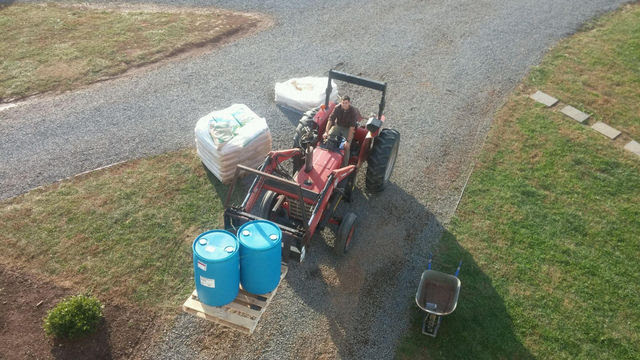 Delivery of organic apple cider vinegar with the mother – essential for beyond organic operations
Its Turkey time….need an extra package of drumsticks or maybe some meaty wings? How about Turkey Broth for the gravy….
stop by the market!
Just moved the turkeys….almost done with the morning chores
Its a cows life….fresh pasture, cool temps – now this is the life moo's the cow!
Moses & Dakota – good buddies on the farm
The bigs news on the farm is Liberty giving birth to a healthy litter of baby pyrenees puppies – oh so fun! See picture below. We will be looking for good homes for the puppies soon. If you know anyone looking, send them to our website.

We had a very large chicken processing this past Thursday and are gearing up for the big Thanksgiving Turkey processing on Monday.

Daniel's gardens are winding down for the season though there will be tasty veggies available at some markets tomorrow (pre-order if you're looking for some greens or radishes). The greenhouse is looking good with several rows of yummy greens growing nicely.

The electric fence wasn't working properly in the big field giving 8 or so opportunistic cows their dream – the 'greener' grass on the other side of the fence :-). Thankfully Joshua spotted them on his way down the road and they were quickly secured.
Its official – Liberty just gave birth to an adorable litter of puppies