The heat returns. Thankfully, we took advantage of the cooler days and pulled all the honey supers off the hives. We should have honey available by next week!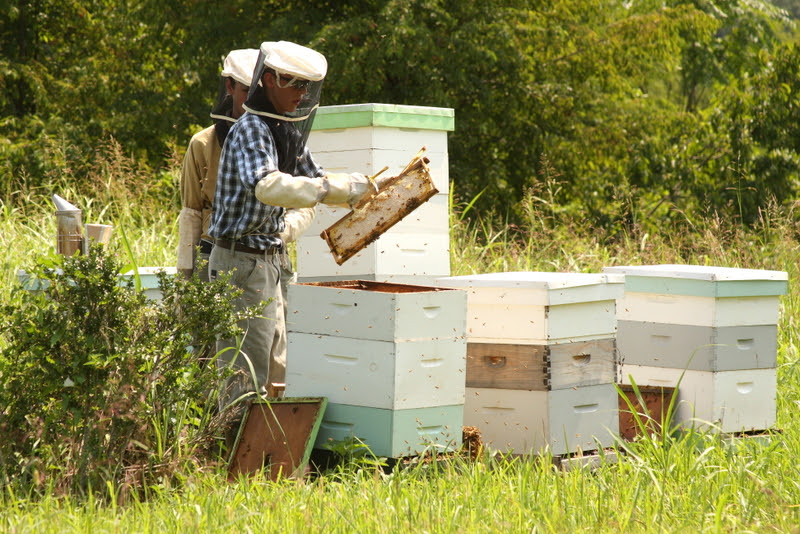 This week on the farm….
We're grateful to have Dad & Mom back after their wonderful trip together this past week. What a welcome the cooler weather was – we definitely took advantage and spent many good hours outside working.
Herding turkeys…..oh the stories we could tell 🙂
Beautiful….spacious, lush green pasture!
Helping Daddy weed!
Finishing morning chores
Ever found that equipment works great 'till you need it….thanks to Matthew we have working hydraulics on the tractor again!!
Prepping to load pigs
Weeding the garden
Thanksgiving Turkeys are on the farm. It may not feel like fall weather yet, but we're already receiving pre-orders for Thanksgiving Turkeys. As soon as you know your plans, get your order in!
Its important for the animals to have shade. So weather giving cattle access to tree lines or pulling around movable shade structures, we work to give our animals a cool place to rest. This reduces stress and helps them grow properly. The dairy cows especially benefit from keeping cool.
The orphaned calf is growing well. He dutifully awaits by the gate every morning for his breakfast milk. His forlorn hungry look wins any compassionate heart that walks by :-).
One of our fastest post market clean-outs took place last Saturday…..the unloading of 6 markets of products in about 45 minutes….The motivation?
A HUGE rainstorm….we finished just in time!
A cloudy day o're the fields of Honey Brook Farms