Run away turkey….little one to the rescue!
Prepping for brush cleaing
Part of the hard working team
The golden hour over Honey Brook Farms
Our beef herd is growing….thanks to the help of Kinloch Farm
The beauty of the setting sun with quiet contented grazing cows here at the farm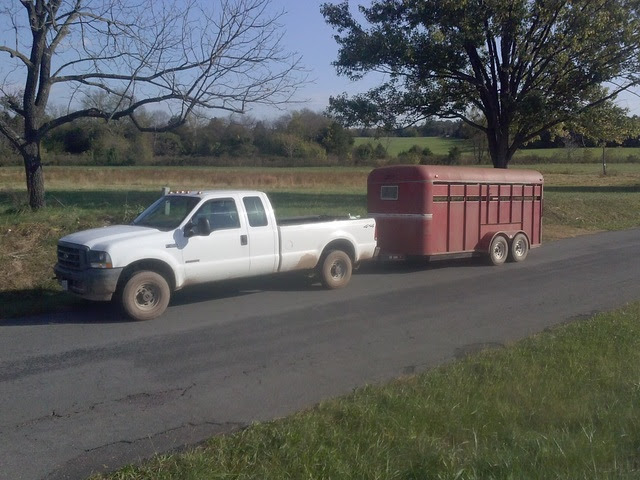 On the way back from the butcher
The team has been hard at work this week – winterizing gardens, clearing brush, driving to & from the meat processor, stacking firewood, and beginning to process Thanksgiving Turkeys. Hard to believe we're less than 4 weeks to market.

The weather has been ideal for working outdoors. We had our second but more significant frost this week resulting in the browning of the remaining vegetable plants in the garden.

Freezers are getting stocked for the winter so we can continue to provide quality meat most of the winter. Our last Fresh Chicken of the season will be soon.

We continue to be grateful for our relationship with Kinloch Farm and their incredible 100% Grass fed beef that follows the organic standards and is Certified Naturally Grown. We had another cattle delivery this week as we continue to grow our herd. Looking forward to expanding availability of our 100% Grass fed/finished beef to more markets next year and online all winter long.
Good morning from Defender…..grazing sheep & our bottle fed calf…..who by the way somehow escaped the fence Tuesday morning 🙂
Food, Cosmetics, Cleaning Rating System
Wouldn't it be nice to atleast have a rating system for products we still have to buy in the grocery store? While not exhaustive, the team at EWG has and continue to build a database of thousands of ratings on products found at stores. With a score of '0' being the best for your health and '10' being bad for you, this website is a good place to go when you want to double check the safety of that tube of toothpaste, shampoo, dishwashing soap, deoderant, etc.
Bookmark this site (www.ewg.org/consumer-guides) and pull it up the next time you're shopping.